Rush Poker Tournaments
Rush Poker Tournaments are the fastest tournaments online. You'll find them in the Full Tilt Lobby, simply choose "Tournaments" from the left hand meny: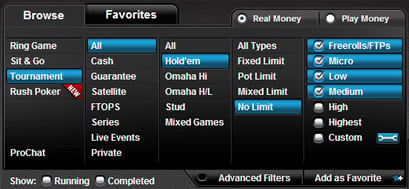 A list of upcoming Rush Poker tournaments are shown in the tourney list. They are marked with a black "R":

How Rush Tournaments Works
Rush poker tournaments works the same way as the regular Rush Poker games - you share tables with all the players enlisted in the tournament. When you hit "fold" you will be directed to a new table, same as the Rush Poker ring games.
However, when the number of players left in the Rush Poker Tourney reach 30 the number of players at each tables reduces to a smaller number. This is on order to keep the tables as many as possible so you can be directed to a new table when folding with as little waiting time as possible.
When Rush Poker tournaments reaches the final table, normal tourney mode is switched on. Meaning each hand is played at the same table at regular phase.